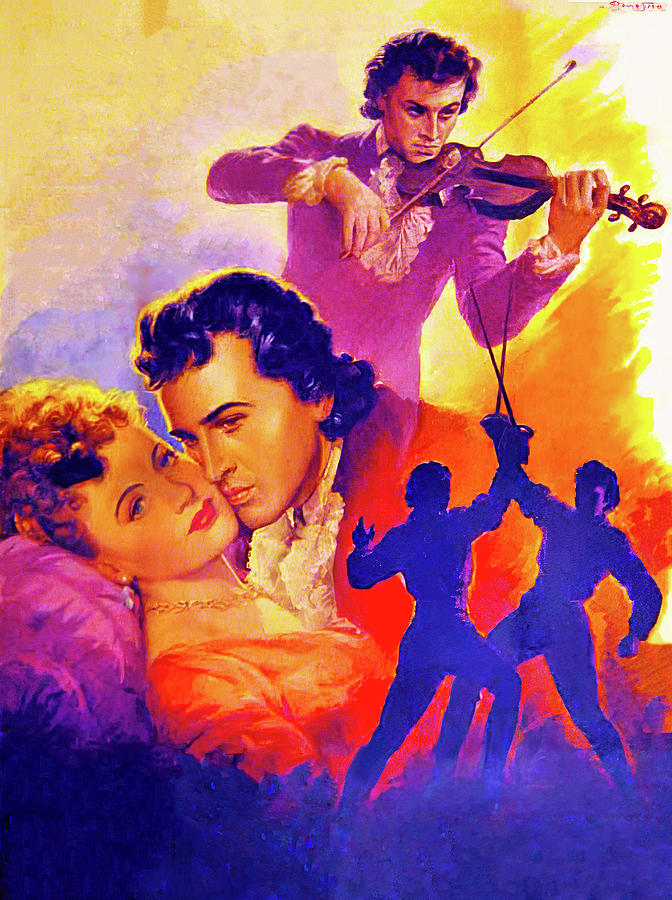 ''The Magic Bow'', 1946,movie poster painting by Anselmo Ballester
by
Stars on Art
Title
''The Magic Bow'', 1946,movie poster painting by Anselmo Ballester
Medium
Painting - Movie Posters
Description
Base painting of the vintage movie poster for ''The Magic Bow'', 1946, with Stewart Granger and Phylis Calvert.

Base art is the poster artwork after the text has been digitally removed. It thereby closely recreates the original painting used for the poster. As practically all those original paintings have been lost, a recreation attempts to display the original art before the movie studios added descriptive text. See also our collection "Movie Poster Base Paintings."

About the artist:

Anselmo Ballester (1897–1974) was a noted Italian painter and film poster designer from Rome. He was the son of Federico Ballester (Rome, 1868–1926), a painter of Spanish origins. Inspired by his father's artistic endeavors growing up, Anselmo completed his first works at 15.

After attending the Academy of Fine Arts in Rome, he specialized in film advertising for the most important silent film production houses. He created posters and other advertising material for CINES, Caesar Film, and numerous other studios.

In his studio in Rome, via della Croce 50a (then via della Passeggiata Ripetta 19), he spent almost 50 years creating thousands of sketches for playbills and paintings for film posters. He went on to form the design company BCM along with two other prominent Italian poster artists, Alfredo Capitani and Luigi Martinati

The movie posters Ballester created between the 1930s and 1950s showcased his unique painting style using tempera medium and bold colors. They typically featured one or two significant characters. His style is reminiscent of pulp fiction covers and, like the best cinema advertisements, were infused with intrigue, conflict, and passion. His works were uncomplicated yet rich in detail, a techniqe and style he himself describes:

"To become a creator of film posters ... it is necessary to study passionately, always to draw and paint everything from the truth. Then you can let your imagination run free. Whether you are creating a work of art, or a more humble advertising poster, you must be able to attract the interest of the public, to satisfy both the most refined people and the roughest, who are the majority."

From a stylistic and compositional point of view, Alfredo Ballester began by drawing inspiration from the advertising posters of Art Nouveau, and then he defined his personal code. The painter exhibited a common layout in his movie posters: the actor or actress beautifully portrayed in the foreground, and one or two scenes from the film in the background.

To achieve this result, he used a methodical technique, making numerous sketches of the project only after having the best two selected by the client, he devoted himself to the final painting, strictly handmade.

Ballester's color palette, however, was his greatest talent. The artist used colors expressively, as a tool to convey emotions. The portraits of the stars were extremely realistic but often colored with unnatural hues such as pinks or intense light blues. Ballester illustrated his characters with colors capable of conveying the range of feelings transmitted by the film.

He was written about in "Anselmo Ballester: the Origins of the Film Poster," published by the University of Parma, Study Center and Communication Archive in 1981. In addition, Dave Kerr made extensive use of his images in his 2003 book, "Italian Film Posters, "published by The Museum of Modern Art in New York.

Permanent collections of his work are displayed at the University of Parma, Communication Studies Center and Archive (CSAC) and the Cinema Museum in Brush, Montecosaro.
Uploaded
November 5th, 2022
Statistics
Viewed 93 Times - Last Visitor from Beverly Hills, CA on 06/02/2023 at 9:51 PM